Shinko Syoji,Co.Ltd. has a half-century experience of marine dismantling from large
vessels to small ships.
Through knowledge and networks built in the past 45 years, we are developing total
and global vessel recycling business,
promoting reuse of the parts of engines, hulks and used ships, as well as recycling
of iron and nonferrous metal.
Greeting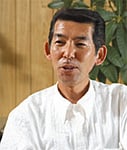 Shinko Syoji, Co.Ltd. has investigated infinite possibility and added value of materialsthrough vessel dismanthing and recycling business in the past 45 years since its founding. We have developed our complete organization by not only building substantial processing equipment, but also development of avessel acceptance facility, expansion of the processing site and training of the specialists.
In recent years our society is shifting to complete recycling society and our social role is becoming more and more important. We will continue more effort to achieve the duty and develop our business from the global point of view in the 21st century.
会社概要
| | |
| --- | --- |
| Company name | Shinko Syoji Co.Ltd. |
| Headquarters | 277 minatomachi, yatsushiro-city, Kumamoto, 866-0033, JAPAN |
| TEL | (81)965-37-1707 |
| FAX | (81)965-37-1709 |
| President | Yuji Hayata |
| Founded | June 1 .1968 |
交通アクセス
[住   所] 〒866-0033 熊本県八代市港町277番地
[ 空 港 ] 熊本空港より車で1時間
[自動車道]九州自動車道八代インターより車で15分
[  駅  ]鹿児島本線八代駅より車で10分